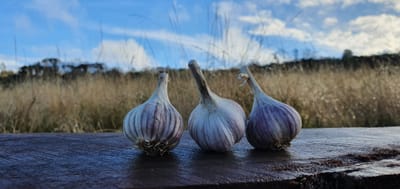 We are a small boutique garlic farm growing rustic and rare cool climate and specialty garlic varieties using no till raised garden beds.

Grown on the Australian Great Dividing Range in South East NSW, we offer rare cool climate garlic varieties with fabulous colours and sweet aromas and some temperate garlic varieties grown at our sister property on the NSW South Coast to offer one of Australia's broadest selection of garlic varieties to meet all cooking style expectations and flavours to suit any foodie's taste buds.


Check out our selection of organically Australian grown garlic here


Apart from growing garlic, we also focus on growing soil and establishing a better ecological system across both properties using regenerative and natural sequence farming principles.


Well, that's the plan! Follow our journey while we recover and redevelop after the 2019 fires....